Top 3 plagiarism checker with most accurate results in 2022
Published 22/03/2022 13:04
|
Blog
|
comments
---
An accusation of plagiarism can harm a writer's reputation or academic record more than anything else. Unintentional, incorrect citations and quotes are often considered plagiarism.
Even the slightest hint of a false claim can hurt your grades or job, so submitting plagiarism-free copies, articles, and assignments is critical.
Before submitting or publishing your work online, influencers, writers, authors, and students should regularly use an online plagiarism checker.
Fortunately, there are plenty of outstanding services available that can review content for potential plagiarism – and they operate correctly regardless of the writing you need to assess, from blog articles and ads to research journals and media articles.
Not all plagiarism checkers provide authentic results, so we've rounded up the top 3 plagiarism checkers who offer accurate results.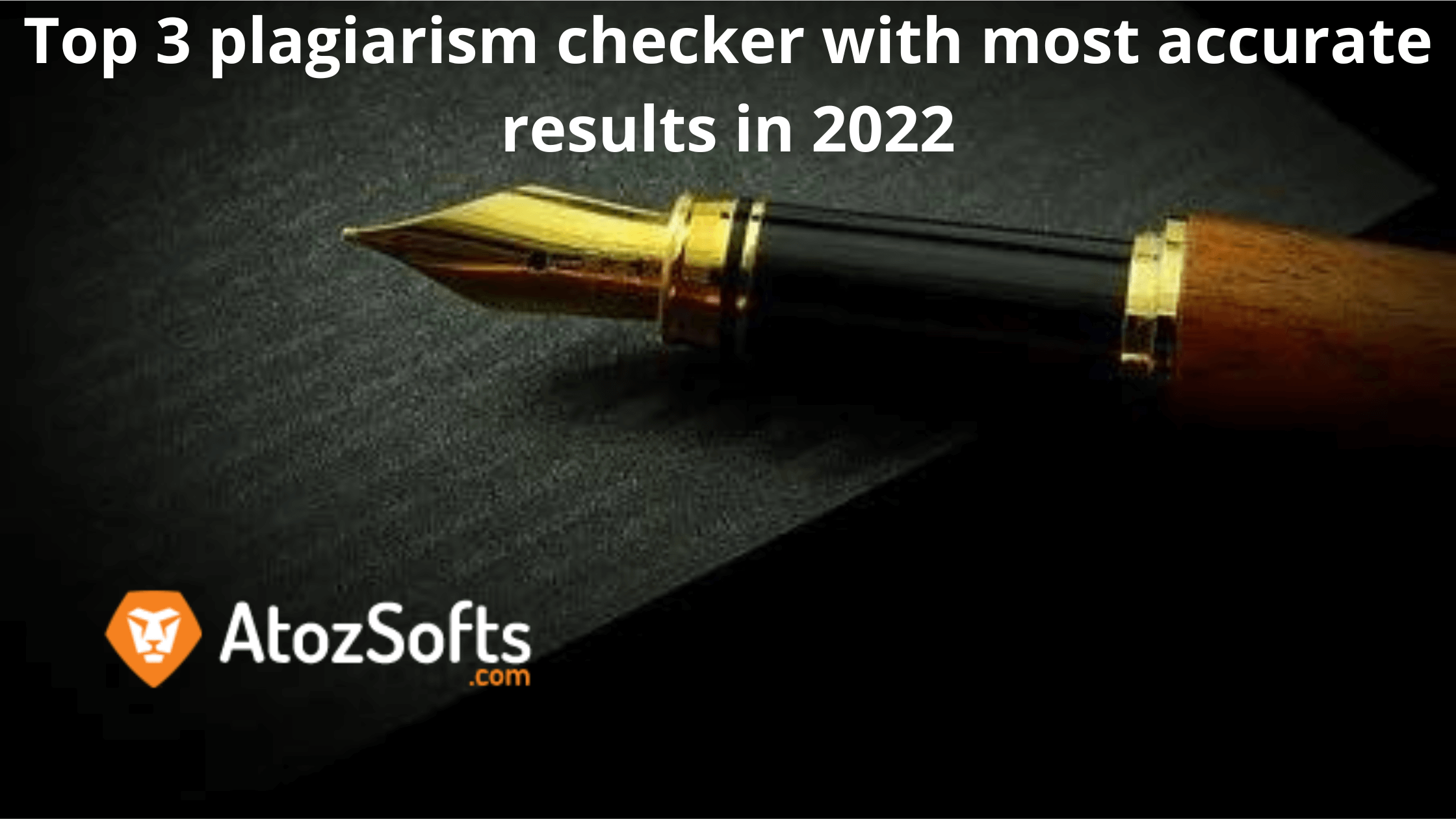 Top 3 plagiarism checkers with most accurate results in 2022:
Plagiarism is a severe offense, — especially in academia. Furthermore, if caught (which is easy with the best plagiarism checkers), researchers risk jeopardizing their reputation in the market, getting expelled, or even being terminated from their universities and colleges.
The best plagiarism detectors bend the rules by providing access to the actual, copied content, grammar, and verbal guidance. You can use a plagiarism checker for the following reasons:
Plagiarism is detected comprehensively using freely available resources available through plagiarism checkers.
For easy configuration, it underlines exact plagiarized content.
Plagiarism checkers frequently offer a % match.
Most plagiarism detection tools also help to detect incorrectly paraphrased content. Demonstrate the writer's sincere intentions.
How to Select the Best Plagiarism Checker?
There are the following factors to consider before selecting a plagiarism checker:
Price of the Tools:
Since there are so many free online tools, they are not as advanced as the paid ones. Although free plagiarism checkers are widely available, they fail to provide comprehensive checks.
Paid plagiarism checkers include advanced features such as spelling and grammar checks, evaluating the text's authenticity score, integrating websites and third-party tools, and comprehensive plagiarism checking across multiple databases.
Purpose of the Tool:
It is critical to determine the context of the tool and how it matches your requirements. Whether you want a self-contained plagiarism checker tool or a more detailed suite of writing and proofreading tools must be clear.
Some plagiarism checkers also provide advanced writing and language improvement features in addition to plagiarism detection.
Accessibility:
Digital tools are supposed to make our jobs easier. However, these checkers can sometimes make our jobs more difficult. As a result, having a user-friendly tool is essential, particularly when searching for a fast and straightforward way to check your papers.
Top 3 Plagiarism Checker in 2022:
Scribbr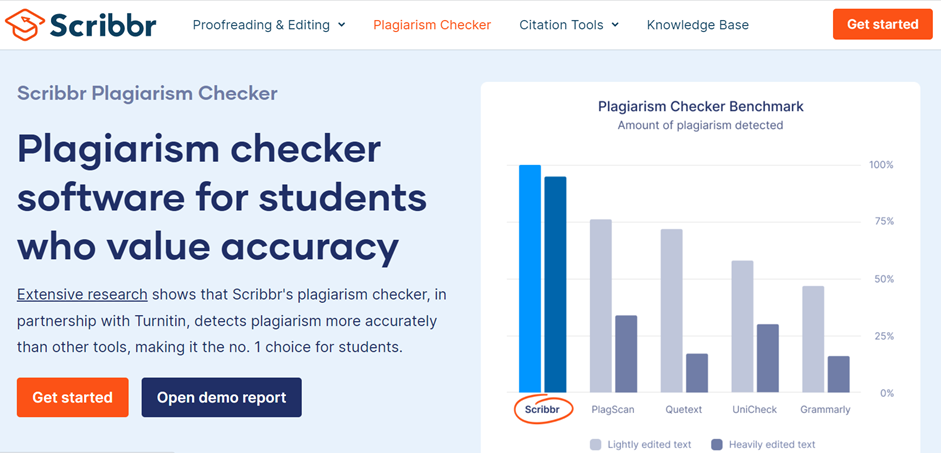 offers a plagiarism checker as part of a more extensive toolset that includes an academic proofreading module and an APA reference generator.
Predictably, the products offered here will refer to students and academics, and the site assists in creating dissertations, essays, and thesis.
Scribbr collaborates with Turnitin, which can detect everything from concise word and phrase matches to language where synonyms have been used. Scribbr checks your writing against a database of 91 billion web pages and 69 million publications.
You can also upload old assignments or referenced works to compare – ideal if you want to check your writing against something that isn't in Scribbr's database.
Scribbr offers expert editors who can proofread writings, thesis papers, funding proposals, and scholarly reviews – it's ideal for ensuring that your academic work is of the highest standard, regardless of topic.
Scribbr also has an APA citation generator and checker, so you can be confident that no one will question your sources.
When compared to other services, Scribbr lacks dashboard and security features, implying that it is inadequate for large enterprises.
Moreover, if you're a student or academic, it's well-designed and meaningful.
ProWritingAid: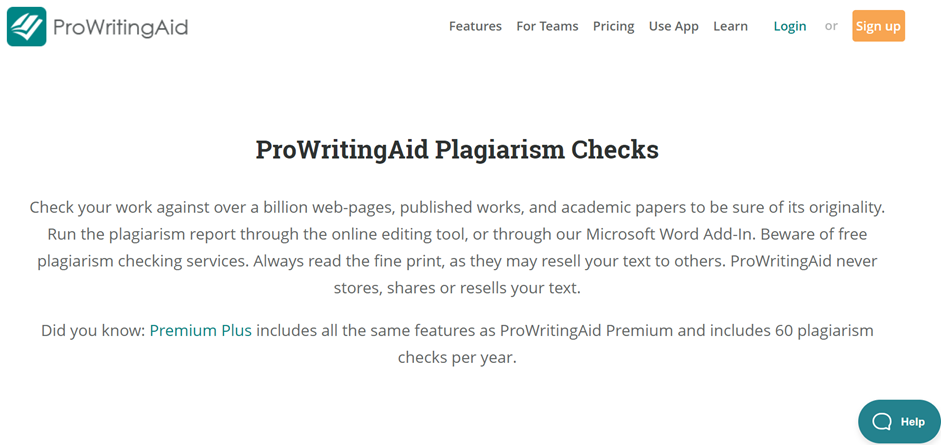 The online plagiarism detection tool presented by ProWritingAid assists in the detection of plagiarized content in manuscripts, novels, and other literary works.
This dynamic tool is an excellent option for writers on a limited budget who want to check plagiarism free of cost.
While working in popular applications such as Scrivener, you can use this copyright checker to scan your writing. Alternatively, you can upload an article, essay, or document.
It identifies grammar and style problems and over 20 different linguistic errors.
ProWritingAid uses an add-in to check for plagiarism directly from MS Word.
To run a plagiarism report on a piece of writing, you must buy credits.
However, it does not take into account print publications. It is also less suitable for content publishers.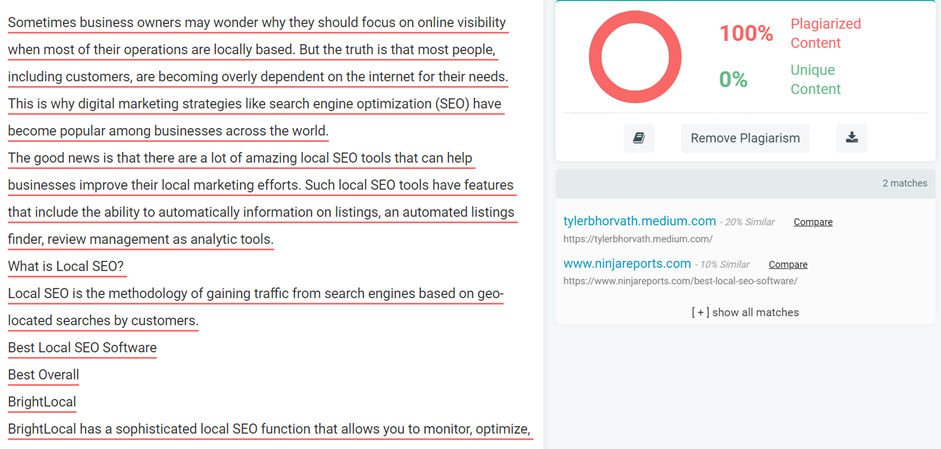 Prepostseo is another all-in-one tool that involves a plagiarism checker that detects your copied content across billions of websites and pages to ensure the accurate text is unique and original.
Thanks to its deep search technology, you can check up to 1000 words for free.
It will deliver the uniqueness of your content of an HTML or PDF report with a plagiarism percentage.
It also includes a Chrome extension for finding copied content online and guarantees that the content you check is 100 percent safe and protected, as it will not save any of your work in any archive.
After scanning for plagiarism, you can use the 'Make It Unique' button to rephrase your text and avoid plagiarism.
The tool also checks for plagiarism in numerous languages and provides Android and iOS apps with a mobile app to check for plagiarism.
A plagiarism remover is also available, which assists you in discarding duplicate content and working through sentences to ensure that your text is 100 percent authentic.
Youcan also use this app available on play store
https://play.google.com/store/apps/details?id=com.plagiarism_checker.duplicate&hl=en_US&gl=US
Conclusion:
There is a lot of debate about how accurate plagiarism checkers are, especially if you're using a free version. These free tools are authentic and can be used as a stand-alone confirmation.
Moreover, keep in mind that they do not check for copied content everywhere. Since they are free, most checkers will only skim Google, Bing, and other search engines for duplicate content.
However, this level of confirmation is not always needed. As long as the content does not exist online, you should be fine using it.
These tools will assist you in checking for plagiarism and writing unique material, whether you are a freelance writer or a student inspecting academic papers.