9 Tips to learn about Microsoft MS Office 2016
Published 09/05/2019 17:37
|
Blog
|
comments
---
Microsoft Office 2016 is an amazing Gift from Microsoft to its Users because there is a lot of New Tips and Tricks Involve and it was Launched with many new features. The Interface of Microsoft Office 2016 is totally different than all older versions. In this Document, We Will Introduce the Most Awesome and Working 9 Tips about Microsoft Office 2016. If you are using Older Versions of Microsoft Office then Microsoft Office 2016. If you don't know anything about Microsoft Office 2016 Version then We Will deliver you all of its Introduction in short. Below Please follow the 9 Advance Tips about Microsoft Office.
9 Tips about Microsoft Office 2016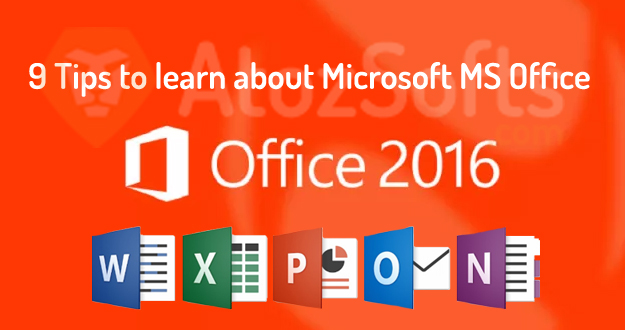 The main Feature of Microsoft Office 2016 is that it delivers you the advanced Templates Files Which can save your Costly time and rather you put some hard work to Create Basic Structure of your files in Microsoft Office, it already Provide you with your Basic Document or Content Structure and you just need to MS Word Document, MS Excel Sheet or PowerPoint layout and your file is ready within few minutes. Microsoft Office 2016 has much more New Advance Tools and Options to make our files more Productive and Impressive.
Also Download: Microsoft Office 2016 Excel Keyboard Shortcuts PDF
SMART LOOKUP
The Smart Lookup is an Awesome option in Microsoft Office and all Users know very well that how they Check the Spelling of Words and you are spelling in Correctly according to Grammar Rules in Microsoft Office Older versions. Now you can also Use this option in MS Excel, MS Word and MS Outlook to get Information about anything on the Web. If you Want more Information about any Word or your document, you just need to Highlight in Smart Lookup and you will get tons of related Information on the Internet at one place.
SKYPE INTEGRATION
Microsoft has made easier to Share or edit files between two or more Persons. Now you and your Friend can easily Edit Word Files at the Same time as Microsoft has made Cloud Document Share very possible. Now within Microsoft Office 2016 version, you can even make Calls via skype in MS Word and Excel and Outlook.
Also, Watch 10 advance office Outlook Tips and trick in Video.
CLUTTER
Clutter is Pretty Amazing Option Microsoft has to deliver Microsoft Outlook. The Spam Folder of Our Email usually received important or unimportant messages but with help of Clutter option Microsoft Outlook.
Clutter is also a great feature Specially design to focus on the message of the Important email by moving lower level emails (Messages) to Clutter Folder.
If you are worried to miss important messages, then don't need to be worried the Clutter will weekly inform you that what is hidden in your Inbox actually.
You can even Give Command to Clutter to never pull again your given Content.
WUNDERLIST
The Wunderlist is also an amazing Feature for Microsoft Outlook Users. This New App enables you to Create an Interactive to do or a Specific list of your Content Which can be Shared with your Family, Friends and Colleagues or Employees. If you Want to Check and Proper monitor the Progress everyone then the Wunderlist can easily help to get everything organized.
PLANNER
The planner is another very Helpful Feature for Enterprise office users. The planner is very Unique Feature Which is so much Beneficial for the Companies and organizations in all over the world. The Planner feature allows Managers to Create a dashboard for various organizational tasks. Managers can easily assign task and Projects to their employees and also managers can track Progress of the Whole Organization. Managers can also change the responsibilities through this feature.
So Your Boss Sends all group emails to the dashboard so everyone can get and read the email on the dashboard.
The Amazing thing is that you did not need to Visit Dashboard all the day as whenever anyone makes a Strategic Change then all of the Group Members received a Notification.
ABILITY TO SEND LARGE FILES USING OneDRIVE 
The ability to Share Large File is now Possible via OneDrive and you can Send your Large Files in the Shape of URL and just someone needs to Click on it and the Whole File will be Start Downloading Process and your Friends and Colleagues will get the Files within few minutes as depend on the file size.
NEW CHART TYPES
Microsoft Old versions User are now boarded from Using the Charts in their financial or hierarchical data. Microsoft 2016 has new Charts Which can attract the user as Microsoft make it more easy for their Users. Now you can Use Various Charts in MS Word, MS Excel and in MS PowerPoint and you can use Treemap, Waterfall, Sunburst, Histogram, Box and Whisker and many more Charts in Microsoft Office 2016.
ONE CLICK FORECASTING
Microsoft Excel has the ability Create a Forecast Form from the Present Data. This Feature is available in Excel's Chart feature. So you can Ge the Results of Forecast with a Single Click Which save a lot of time.
IMPROVED VERSIONING
Microsoft has Introduced Microsoft Office 2016 with many advanced Features. All of the Previous Versions of Microsoft Office are not packed with advanced features Which may save a lot of Costly time of their Users. This Improved version of Microsoft Office 2016 has a lot of very useful Templates files and many new Charts for Creating their financial or hierarchical data.
In the last, we hope that you will learn about the 9 most Useful Tips for Microsoft Office 2016.
Microsoft Office 2016 has many new features and in this Document all of the Most Popular and Working Microsoft Office 2016 Tips we have shared with you, hopefully, it works for you.